We've got a plan designed just for you!
Membership is simple at Alpha Fitness Center, because we've made it that way. We want to make becoming a member an easy experience that anyone would be comfortable with, so look over our different plans and see which one fits you best.
We have multiple and continuous specials for our memberships throughout the year! Come check out our facility's and inquire about our current REFER A FRIEND SPECIAL and our PAID IN FULL SPECIALS! More specials to come!
Raffle Special!
Buy a Raffle Ticket for $5 and enter for a chance to win a Full Year!!!
GET A 3 DAY FREE
TRIAL AT ALPHA
FITNESS CENTER
Try out the best Fitness Center in Arden & Hendersonville FREE for 3 days. This pass is good for 2 people, so bring a friend.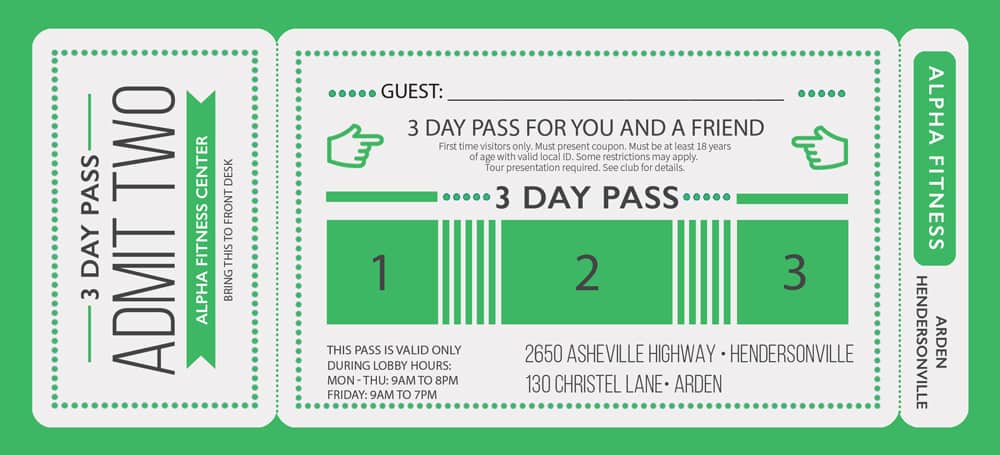 To redeem your 3 day pass click the PRINTABLE IMAGE button below and you will be taken to a PDF image of the pass. You can a.) right click on the image and select "save image" to save it to your mobile device's photos or b.) choose "print" under File from the menu at the top of the page to print your pass. Whichever method you choose, bring a friend and present your pass at either Alpha Fitness Center location to try us out for 3 days.